I heard an old Randy Newman song the other day, very familiar to my generation. I did not know it had actually been written, and was often sung, by Huey Long, former U.S. Senator and Governor of Louisiana, the man Franklin Roosevelt called "the most dangerous man in America".
"Every Man A King"
Why weep or slumber America
Land of brave and true
With castles and clothing and food for all
All belongs to you
Ev'ry man a King, ev'ry man a King
For you can be a millionaire
But there's something belonging to others
There's enough for all people to share
When it's sunny June and December too
Or in the Winter time or Spring
There'll be peace without end
Ev'ry neighbor a friend
With ev'ry man a King
Huey Long (1893-1935), "Kingfish", was the flamboyant Louisiana demagogue who became Governor and U.S. Senator, and whose social reforms and welfare proposals were overshadowed by the his unprecedented political control of his home state.
After dropping out of college at University of Oklahoma, Long completed one year at Tulane Law School, prepared for and passed the bar, and started his own law practice. At age 25, Long won election to the Louisiana Railroad Commission, where he advocated expanding its powers over railroads to include regulation, pricing and taxation of the telelephone & telegraph and oil & gas industries. Long earned widespread popularity pushing through lower consumer rates for telephones, streetcars and gas; while imposing higher taxes on oil and freight rail companies. His picturesque, irreverent speech; fiery oratory; and unconventional buffoonery gained him national fame. After losing in 1924, Long was elected Governor in 1928 with strong support of discontented rural districts. As governor, Long initiated and completed an ambitious program of long neglected infrastructure, education and social service improvements in a state where the wealthy elite had long controlled the state government. New schools with free textbooks; extensive road and bridge building; expanded state university facilities; and a medical school and free state hospital were built. Long opposed excessive privileges for the rich, and financed public improvements and services with increased inheritance and income taxes on the wealthy, and higher taxes on oil and freight rail.
Long's folksy manner belied his ruthless methods; surrounded constantly by bodyguards, he used political intimidation to dictate outright to members of the legislature. He survived an impeachment trial for corruption in 1929, then ran and won a U.S. Senate campaign in 1932, at the start of FDR's administration. Just before he left for Washington, Long fired the legally elected lieutenant governor and replaced him with a successor who would follow his instructions. Long made radical changes in the Louisiana government, abolishing local government, and taking personal control of all education, police, and fire department personnel in order to control more patronage jobs across the state. In addition, Long took full control of the state's militia, its judiciary, and its election and tax-assessing apparatus. This represented such expansive control of all aspects of the state's government as to give Long virtual dictatorial powers, unprecedented anywhere in the nation.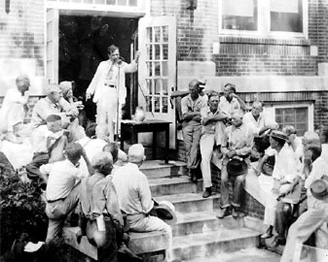 As a Senator, Long at first supported FDR's New Deal, but then turned against it. Long sought national power with his "Share-the-Wealth" program, which advocated confiscation of personal wealth in excess of $5 million; provided every family with $5,000 to buy a house, car, and radio; provided for old-age pensions; minimum annual incomes; veterans bonuses; and government-paid college educations. Long found support with the public during the economic shock of the Great Depression, and organized local branches, attempting to unite various radical movements. Long presented an independent political power apart from the two major parties, and explored a Presidential candidacy for 1936. Long was at the height of his power when he was assassinated in the lobby of the Statehouse in Baton Rouge that he built, by the son of a political opponent he had vilified. The Long political dynasty was carried on by his brother Earl Long, who served three separate terms as governor (1949-–60); and by his son, Russell Long, who served in the U.S. Senate (1948 to 1987).
Huey Long's life is outlined, with his usual mastery, by Ken Burns' 1985 documentary, narrated by David McCullough.
"All the King's Men" is a novel by Robert Penn Warren, published in 1946, an allegorical account of Huey Long. The novel tells the story of charismatic populist governor Willie Stark and his political machinations in the Depression-era deep South. The novel won the Pulitzer Prize in 1947 and was adapted to film in 1949, winning the Academy Award for Best Picture. The novel received critical acclaim and has remained perennially popular since its first publication. It was rated the 36th greatest novel of the 20th century by Modern Library, and it was chosen as one of Time magazine's 100 best novels since 1923.
The novel was adapted to film again in 2006, and captures the mood of Depression-era Louisiana society and politics, and the raw power of the populous governor, especially when rousing his crowds. The cast is fantastic – Sean Penn, Jude Law, Kate Winslet, Anthony Hopkins, James Gandolfini, Mark Ruffalo and Patricia Clarkson. The movie follows the format of the novel, portraying the dramatic political rise of Governor Willie Stark (Sean Penn), narrated by Jack Burden (Jude Law), a political reporter who comes to work as Stark's right-hand man. The trajectory of Stark's career is interwoven with Burden's life story and philosophical reflections. Stark's political team consists of his bodyguard and friend Sugar Boy (Jackie Earle Haley); the journalist from an aristocratic family Jack Burden (Jude Law); the lobbyist Tiny Duffy (James Gandolfini); and his mistress Sadie Burke (Patricia Clarkson); who face down the opposition of the upper classes. Stark rewards his political allies with graft and patronage jobs, and punishes his enemies with accusations of corruption, whether true or false. When the influential Judge Irwin (Anthony Hopkins), father of Burden's first love, supports a group of politicians in their request for impeachment, Stark assigns Jack to find and expose personal dirt from Irwin's past, leading to Irwin's suicide, and then Stark's assassination by Irwin's son (Mark Ruffalo) at the end.
This all seems relevant to our current political condition. In our modern version of this saga, Kevin McCarthy, college dropout, Republican Minority Leader, would-be Speaker of the House of Representatives, walked back his initial statement of Donald Trump's responsibility for the January 6th attack on the U.S. Capitol, and flew to Palm Beach to kiss the ring of the Republican "President-in-Exile". Republican Party officials in Arizona and South Carolina, states that gave us Barry Goldwater and Strom Thurmond, have sanctioned their own elected officials who resisted Trump's determined efforts to overturn a clear election result, or who voted to impeach Trump for his incitement of the violent attack on our democracy. We have Republican Congressmen, by their deafening silence, shielding one Congressman who has promoted conspiracy theories routinely, and has called for assassination of Democratic leadership. Forty-five Republican U.S. Senators have voted against impeaching Trump for his incitement of a violent power grab on the basis that it is the proposed impeachment, rather than Trump's efforts to overturn the election by mob violence, that is unconstitutional. And now, Trump's entire five-member legal team, rounded up by sycophant Lindsey Graham, has resigned en masse, after Trump insisted that they defend his impeachment with the claim that he won the election, a perverse justification for his incitement of the attack on January 6th.
Trump's accomplishments pale in comparison to Huey Long's; and the scale of his political offenses overshadow Long's by tenfold; Trump is today's most dangerous man in America. Most of the Republican delegation continues to avoid refuting Trump's lie about the election, for fear of political retribution by his mass voting base, representing the vast majority of Republican voters. We do not know how this will all end; my inclination, and my hope, is that Trump's influence will gradually fade.
At some point, following Robert Penn Warren's precedent, a great American novel will capture the story of Donald Trump, who, for the time being, maintains his grip on such a mass popular base that he continues intimidating virtually the entire Republican Party. In the meantime, both Ken Burns' documentary about Huey Long, and Sean Penn's film adaptation of the allegorical character, are well worth a watch; the lines will jump right off the screen at you; so familiar from recent experience. And I will get Robert Penn Warren's novel on my "to read" list.